What shows have we been working on recently?
06/09/22 10:07
See what we've been up to over the last few months.


It's been awesome being out weekly with Seriously Collins, DS:UK and Classic Rock Revival.

Seriously Collins is an incredible show to work on - a fantastic 10pc band of class musicians; 2 drum kits; brass section; and a host of production tricks to give the signature Phil Collins vocal and drum sounds that audiences would absolutely miss if they weren't there. The PA always blows the band and the audience away. Despite the Yamaha DXR/S having a really small footprint - they have an enormous sound and fantastic power, getting the sound everywhere around the room for the average 300 person audience.

How does monitoring working for a 10pc band? With 16 aux's available on the Presonus system (and more if we upscaled with another Series III console when we need it), each performer has their own In Ear system, with one wedge provided for the lead guitarist. Monitoring is easily controlled and managed by the performers themselves on their iPads or their phones, making set up and sound check really quick. One of the members loves using the Matrix mix in his IEMs, pumping a general mix into his ears plus a little FOH AND a little of the parallel drum bus for a little more punch. Incidentally, the other Auxes are used for subgrouping and parallel compression tricks to give the FOH sound that extra power.

The band uses very little on track, but there are a couple of backing track elements that are required due to Phil's love of Drum Machines! The keys player has this masterfully set up in MainStage, along with clicks, so we're having to manage these alongside the band.

As technicality goes, it's a complicated show to work on.

Most recently, we've been at the Sturminster Newton Exchange, Mowlem Theatre in Swanage and 1865 in Southampton.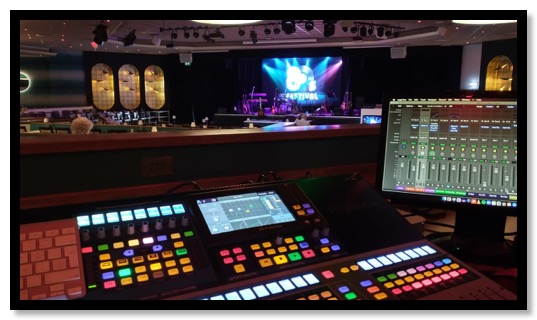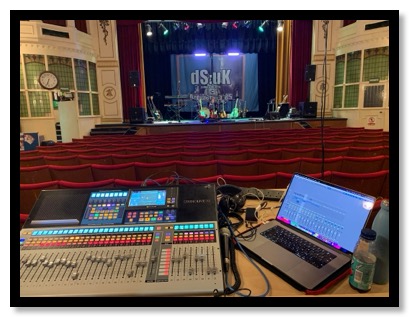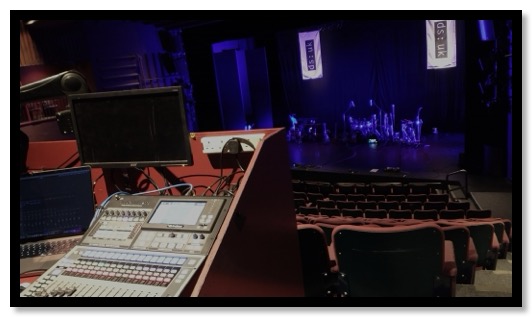 DS:UK… in tribute to Dire Straits have played some varied shows recently. Our regular visits to the Warner Hotels are always pleasurable - the staff look after us really well and the buffets are always awesome!!! The depicted shows are Sinah Warren Hotel, Albert Hall in Mid Wales and Crescent Theatre in Birmingham.

DS:UK is a 6pc rock back with live sax. The make up is fairly similar to Seriously Collins although, due to the 6 members, the band can receive their IEM mixes in Stereo rather than mono, and still have space left for sub grouping workflows and additional Matrix sending for larger room systems.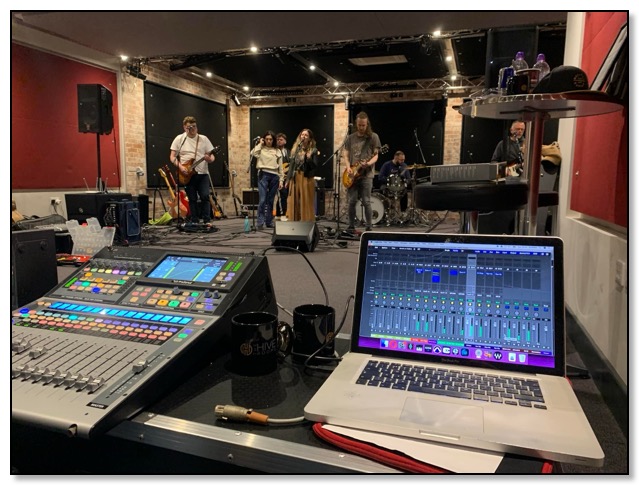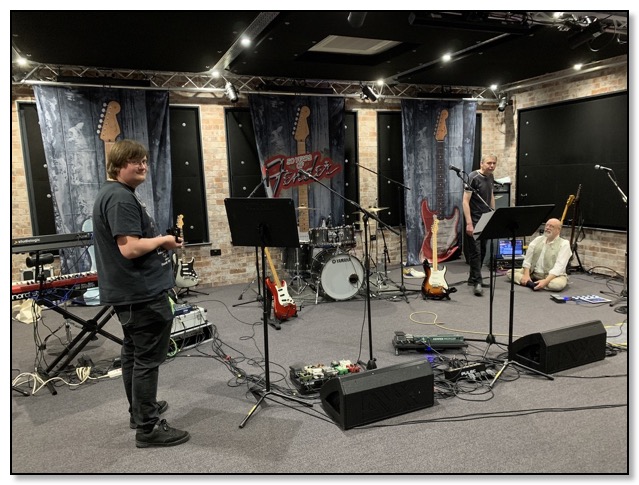 We've also been attending rehearsals and, incidentally, at the same place - Hive Studios near Crawley!

We started working with Classic Rock Revival at the head of the year, and attended a rehearsal to set up the band and get an idea of what they're about, pre-show. This is an integral step, and one that we take when we sign on with new long term shows (not one-off bookings, I'm afraid) so that we can hit the ground running when we go into a show. Classic Rock Revival are a brand new show out on the theatre circuit and we've been helping them achieve work, and arrange deps, while they find their rhythm alongside managing their FOH production.

50 Years of Fender is also a brand new show that is currently in rehearsals that we set up and captured during their initial rehearsals. We can't wait for this one.




Prestige Sound maintain 2 engineers and 2 FOH rigs that will cater for small 300-400 seater venues, providing great kit and professional production experts who manage it. We have bookings every weekend in 2023 for at least one of our Rigs, but there is availability for the second across the year. Email us on foh@prestigesound.co.uk to discuss your event or bringing us on board as your FOH team.